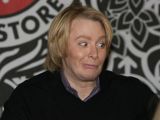 Hi, readers. Are you looking for some fun? You can; create a funny caption(PG rated and no derogatory comments, please)for the photo of Clay Aiken at the top of this post, take a quiz, or watch some amusing concert videos. You could even do all three. It's up to you.
Clay's Cupid Shuffle-Gifs.com
If you create a caption, please post it in the comments below. I will put the best ones in a new blog post.
If you'd like, please take the quiz below that I made on Apester.
Here are some witty concert moments; Clay Aiken 2016 Christmas Concert in Chandler, AZ - 07 Banter And WAYC by canfly172
Clay Aiken - concert banter by Pacifique
Clay Aiken - Christmas Tour 06 Banter (Part 1) by jamiescrazy4clay
Instagram
Twitter Let's Have Some Fun!
Are you having fun, yet? If you did, please drop me a comment in the form below. If not, I still wantt to hear from you. If you have any suggestions for this post or future ones, I'd love to know your opinion.